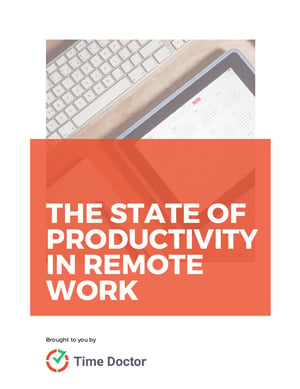 The State of Productivity in Remote Work
Benchmarking your remote workforce in 2021
Key Insights you will find in the report:
We Analyzed the Productivity of 100,000 Remote Workers over a 2 Month Time Period. Here's What We Found.
We compiled and analyzed data from across all Time Doctor users and industries, to gather valuable insights including:
What technology are top remote teams using to stay productive?
How much time do remote workers spend on social media?
How much time do remote workers spend on productive apps and websites?
See which countries have the most productive remote workforce (We were surprised!)
Plus, we look at overall productivity on a global scale. If you want to see how remote workers spend their work day, then grab this in-depth productivity analysis. Enter your name and email address and we'll send the guide to your inbox immediately.